Title: Responses to & Correspondences With a Contributor to The Ted K Archive
Clay
Responses to & Correspondences With a Contributor to The Ted K Archive
Sourcing
Jake Hanrahan to Twitter
Mostly unknown but fascinating (to me at least) anti-tech attack carried out in the name of Ted Kaczynski in #Greece in 1998. The "Revolutionary Subversive Faction Commando Unabomber" detonated two bombs outside of Hewlett-Packard-Packard.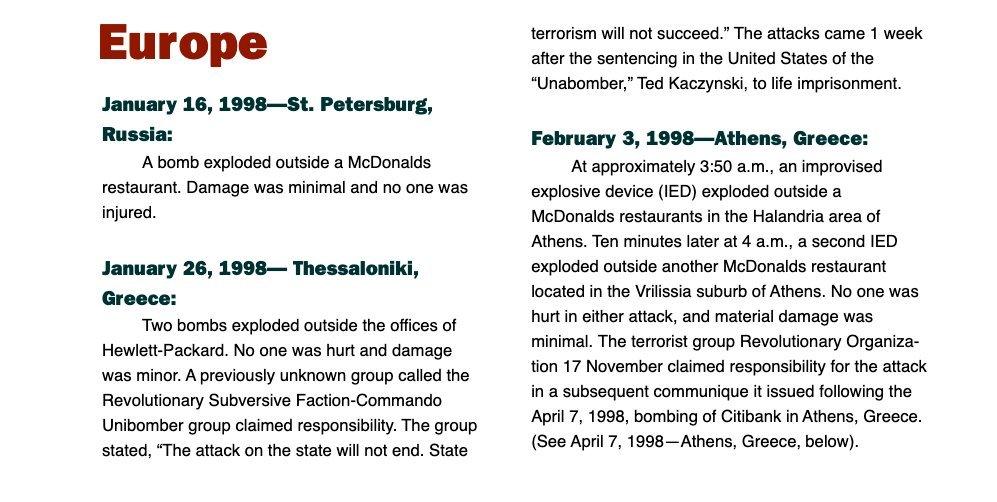 Clay to Jake
Here's an archive of the full book:
The attack was also written about in an old anarchist zine from the time:
I think due to the high-profile celebrity the Unabomber had achieved in terrorizing the American Empire and the seemingly anti-capitalist nature of the attacks against CEOs, it appears this Greek group were simply led to perceive the Unabomber as an ally in their struggle.
Due to support by the US during the cold war for a military Junta in Greece between 1967 to 1974 and a thriving anarchist movement in Greece opposed to American imperialism around the world, attacks on American corporations were extremely frequent at the time.
The WannabeWonk to Clay
This is an incredible account and thank you for this info
Dante to The Discord
Does anyone have the list of items found in kaczynskis cabin?
Clay to Dante
Here you go, made to order: https://www.thetedkarchive.com/library/ted-kaczynski-s-seized-possessions
Dante to Clay
wowza thanks
Copy Typing
Clay to Leo
Thanks for the edits!
They're published now.
Leo to Clay
no problem!
I think it is quite funny that Kaczynski asked for "homage to barcelona", and the librarian (maybe someone else?) corrected it on the letter
Clay to Leo
Discovering those little details are so fun and addictive.
From Kaczynskis' autobiographical book Truth versus Lies:
My mother did stop sending me the throwaways from Harvard, but unfortunately she sent Harvard my new address, so that they started sending me their junk mail directly. I put a stop to that by sending them an imaginary address: 788 Banchat Pesh, Khadar Khel, Afghanistan. Newsweek … described Khadar Khel as "a remote village near the Khyber Pass," but if such a place exists it is a surprise to me. I just invented the name. Anyway, I received no more mail from Harvard after that.
Leo to Clay
That is very funny.
I must say, I do not know very much about Kaczynski, other than the basic internet-given knowledge. I must look into him further
Clay to The Discord
Letters to Library Staff is finito: https://www.thetedkarchive.com/library/ted-kaczynski-letters-to-library-staff
Website Update
Clay to Various People
Hello,
I'm a small contributor to 'The Ted K Archive' website and just wanted to let you know about where the project is up to in case it's any use to you. Also, I know it's a long shot, but if we can be of help to each other, or you know anyone who you think might like to reach out to collaborate, then that would be great too:
All the source PDFs for all the most important texts on the website have been archived on Archive.org. Including 'the 'Primary Source Documents on Ted K' & 'The Collected Works of Ted K':
A spreadsheet has been created collecting together lots of the meta-data, like the source URLs, published dates, etc. here:
Finally, lots of scanned documents have been partially or fully typed up onto the website, such as:
Best,
Clay
Naturaleza Indómita to Clay
Hello,
Thank you for the information.
Greetings,
Naturaleza Indómita
Jim Fitzgerald to Clay
Thanks, I'll check them out.
Jim F.
Anti-Tech Collective to Clay
This project is being undertaken without Dr. Kaczynski's or the University of Michigan's permission and in violation of copyright law. The owner of the site (a pro-tech leftist) only intends to nullify and counteract the anti-tech movement through this site, and the "critiques" of Dr. Kaczynski's ideas are silly, feeble, and insipid. It would be best for the movement if the site were taken down entirely, but we will leave that work to the author's, Fitch & Madison Publishers', and the University of Michigan's respective legal counsels. Since we are fostering the emergence of the anti-tech movement we have no interest in assisting you in any way.
Clay to Anti-Tech Collective
This project is being undertaken without Dr. Kaczynski's or the University of Michigan's permission and in violation of copyright law.
It's amusing that only 1 out of 3 of those claims are likely even that important to you in principle.
With regards to copyright law, three of the books in your online library are broken links to a pirate site called Z Library (old URL: 1lib.us, new URL: singlelogin.me):
The Biocentric Worldview

Cosmogonic Reflections

Ludwig Klages and the Philosophy of Life
So, similarly with regards to universities permissions, I can easily imagine you being grateful to 'a comrade' sharing around a survival manual that they got from a university without the permission to share it.
The owner of the site (a pro-tech leftist) only intends to nullify and counteract the anti-tech movement through this site
Why use the word 'only', why is it necessary for you to view the world in such black and white terms. There could be other very meaningful and relatable, emotional and intellectual motivations driving some of the archivists on the site, which you could simply view as having incidentally been misplaced in the associated service of net bad outcomes.
and the "critiques" of Dr. Kaczynski's ideas are silly, feeble, and insipid.
The site looks to have included every pro and anti Kaczynski critique that are easily findable and then some, over a 100.
I know for sure that your project doesn't view at least some of those critiques under such negative terms because you have them featured in your library and on your YouTube channel.
Also, the skim reading of bad critiques is still valuable to many archivists and political science researchers, in order to get a better understand of the various cultures in critical support or opposition to an idea.
It would be best for the movement if the site were taken down entirely
I hope this is true, simply due to the undesirability of anti-tech philosophy and the effect shining a light on it has. But, I'm surprised you don't see the free accessibility to these anti-tech works as being able to have a net positive effect, in drawing a bigger audience to the ideas. But, perhaps you don't have enough confidence in the ideas ability to shine out the critiques.
Take for example the Nihilist vs Primitivist feud that spilled out of the remains of Green Anarchy magazine. Two magazines, Black Seed and Black and Green Review launched around the same time. And it was Black Seed's free distribution that helped the nihilist anticiv position win over more influence than the other could muster.
Finally, it's not difficult for a website to keep popping up again and again, even if the current domain provider takes it down, especially if it's maintained by committed anarchists without bank accounts or fixed abodes to care about. So, I suggest learning to live with that reality and find interesting ways to engage with the project, even if that's in opposition.
Enjoy the hand written and badly scanned up documents that were typed up and formatted, for ease of reading, quoting, linking and saving. If you have any suggestions for texts you think it would be worthwhile to include, feel free to let me know.
'A Warning' by Fitch & Madison
A Warning about The Ted K Archive
It has recently come to our attention that a pro-tech leftist that goes by the name Theo Slade has created a website titled "The Ted K Archive" in order to upload all of Kaczynski's writings online against Kaczynski's wishes and in violation of the author's copyrights. Slade also intends for this site to serve as a platform to critique Kaczynski's ideas and turn individuals away from the cause against the techno-industrial system for the sake of wild Nature. While Slade and his collaborators have gone around to various online communities and individuals that have some affinity with Kaczynski's ideas in an attempt to solicit help under the guise of creating a project that could be beneficial to the incipient movement, make no mistake, their actions are duplicitous and the overall group behind the website only attempts to nullify the nascent movement against the techno-industrial system for the sake of wild Nature.
In the "About This Project" section of their website (https://www.thetedkarchive.com/special/about-this-project) it is made clear that this site is nothing more than a sad attempt to harm the cause against the techno-industrial system for the sake of wild Nature:
... we're hoping the website can work to draw people in with similar politics to [Kaczysnki] and similar mental health issues frankly. Then for the cold hard reality of the primary source reading material, the epic-ness of the suggested reading material and the inviting discussion spaces connected to the website, to all have a deprogramming effect and be a mental health support.
And as for Slade's collaborators, it seems that the majority are pro-tech as well. "We, the librarians who bought the website domain, are pro-tech anarchists, but we just find his life story and impact really interesting."
While their critiques of Kaczynski's writings are so silly that they are not even worth countering (as any reasonably rational and intelligent person would not be swayed by the "arguments" put forth in them), the attempt to by these leftists to have control over Kaczynski's writings (again, expressly against his wishes) is concerning. Those that want to foster the healthy growth of the movement against the techno-industrial system for the sake of wild Nature should denounce and disavow the project, and take steps to avoid any collaboration with it.
Signed,
Fitch&Madison.
Clay to Fitch & Madison
I can potentially respond to this point by point later, but in short, all claims of duplicity are bullshit. Explanations of the admins pro-tech beliefs are pinned to the top of twitter, tagged as labels to the accounts of admins on discord and never downplayed. Many of the admins simply enjoy reading and writing about niche political philosophy, so value archiving hard to find texts, plus creating space for and promiting discussion of this reading material.
Ted K & Alex of F&M simply fail to take advantage of opportunities to reach new people and needlessly spurn even people who are virtual carbon copies of Ted, such as getting a homesteading anti-tech revolutionairy to delete an audiobook of Ted's book ATR, which must have taken days to record.
Condensed Discussions on Censored Texts
Garden – Chapter on "The Most Critically Important Electric Substations In The United States"
Argument for censoring: The text got the author into hot water with law enforcement, so we don't think it's worth the risk archiving as we are not anti-tech.
Counter argument: Cities are unhealthy, become anti-tech revolutionaries.
Steal This Wiki – Chapter on "People's Chemistry"
Argument for censoring: The original chapter in Steal This Book contained some instructions that were as harmless as 'how to make stink bombs'. We don't see any risk in hosting this book as it's been published and has a fair bit of historical interest. But, the chapter was updated extensively for the wiki and so, we'd rather just let the people who want to find this kind of information find it on their own. That way we're not needlessly risking anyone drawing the attention of law enforcement for viewing this website. Because one important goal is for the website and print out PDFs to be useful guides for surviving living a low yearly income existence.
Counter argument: Similar guides exist on other anarchist libraries with no consequence.
Doxes of the eco-extremist writer/translator/publisher Abe Cabrera and his vivisectionist wife
Argument for censoring: The reason the person was doxed and their critique of the person is still fully intelligible despite censoring the information. And there's some neglible chance that we'd be causing greater net suffering to innocent or reformed people years later.
Counter argument: The evidence this was Abe in the first place, then the shutting down of Atassa and the way everyone reacted on release of the dox confirms it, so he and his vivisectionist wife should have a spotlight put on their lives even just as a journalistic human interest story.
Condensed Discussions on Controversially Accepted Texts
A text dump on eco-extremism
Argument for deleting: The text includes the end stage ITS messages which are so vile and misanthropic that even theanarchistlibrary.org wouldn't upload it haha
Counter argument: The text includes a massively long introductory critique and the latter stuff shows them consistently failing and withering into irrelevancy. It helps with understanding why a group came to slavishly walk in Ted's ideological footsteps and then become even more misanthropic and hopeless than him.
Suggested Reading critiquing Ted
Arguments for deleting: Ted is an anarchist POW [prisoner of war], so he deserves not to be shit all over.
Counter argument: Even if I were to grant he's an anarchist POW, it wouldn't make the 'war' he fought any more justifiable, it would just mean some anarchist POWs deserve to be shit all over. Ted is an asshole who planted a bomb on a public airliner, took a knife to meet a romantic interest who turned him down, with the plan to disfigure her face for it, and slowly tortured animals to death for eating food in his cabin.
But, regardless of whether he deserves that treatment, I don't think that's an accurate description of the purpose of the website creation, nor all the utility this website has for various people.
Finally, it's doubtful whether Ted was ever an anarchist and he later rejected any identification as an anarchist:
In 1995 I described FC as "anarchist" because I thought it would be advantageous to have some recognized political identity. At that time I knew very little about anarchism. Since then I've learned that anarchists, at least those of the U.S. and the U.K., are nothing but a lot of hopelessly ineffectual bunglers and dreamers, useless for any purpose. Needless to say, I now disavow any identification as an anarchist.
Texts by Daniel McGowen
Argument for deleting: Daniel is an ex anarchist POW, so he might deserve special treatment in being asked whether he wants his texts published.
Counter argument: There are countless witness testimonies of the time and place Daniel was radicalized also being a hotbed of interest in the Unabomber manifesto. So when using the website to learn about these events, it's useful to have writing by the ELF members themselves to look through in the same topic. He acknowledges himself he made some dumb decisions like burning down a tree farm due to thinking they were genetically modified trees when they weren't, and so hopes others can learn not to make the kind of mistakes he made, this website can attempt to in part serve that purpose.
Censored doxes of the eco-extremist writer/translator/publisher Abe Cabrera and his vivisectionist wife
Argument for deleting: No good is being achieved. And even if the husband did commit an unethical act, the wife can't be guilty of the crimes her husband committed.
Counter argument: Identifying names and locations are blacked out or replaced with the word '[censored]'. The net good is being able to understand the history of a group who started out slavishly walking in Ted's ideological footsteps and how they became way, way more misanthropic and hopeless than him, plus their supporters and promoters.
These texts contain evidence the dox was the correct person:
The Ultimate Ted Kaczynski Research Document
Argument for deleting: All texts should be free, not hidden behind a patreon account, otherwise you don't really care about achieving an anarchist world.
Counter argument: One paywalled text on the website does not a not an anarchist make haha. The author says the book took over a year to produce and simply isn't comfortable with the text receiving a wider audience until it's fully finished. But, they'd like to find collaborators and are offering help:
At some point I would like to condense this book down into one normal length book, cutting chapters and putting quoted sources into my own words. If you'd like to help as a co-author or would like my help with your own ideas for what to do with the material, just let me know.

I've also quoted a ton of people in this book, so the offer is open to anyone I've quoted to let me know if you might like your quote updated with a new statement.

My email is ishkah@protonmail.com.
Criminal Justice Reading List
Argument for deleting: The piece celebrates what they call 'good prisons' like in Norway (their words).
Counter argument: No, not black and white good, good-ish character virtues on the part of liberal reformist legislators who push for these policies in authoritarian countries as one short-term tactic among many:
'The Good, the bad and the gray' are rough approximations of the character virtue intentions of the individuals & groups listed, and/or the net positive outcomes we think they may have achieved in giving people the courage to break free from their social conditioning. That isn't to say we think every action taken by every group or individual listed in the good or gray categories were ethical.
Disrupting The Purist Anarchist Pipeline
Argument for deleting: The piece argues that insurrectionary thought is a 'pipeline' to eco-extremism, which isn't true.
Counter argument: The text doesn't say anything like that:
I really value debate between various specialized political philosophies and strategies, and I have nothing against for example, green anarchism as the promotion of a style of critique not often seen, like black-anarchism and anarcha-feminism. These can help identify you as someone who has had the time to research the ways in which expertise in building democratic institutions, green architecture and rewilding will help get us to a better world.

In using the term pipeline I'm not making an absolutist factual claim, that if a person reads x thing, they are on their way to becoming y thing, always and definitively. I am saying there is a clearly observable psychological crossover among some people from these niche ideologies who move down them in a pursuit of viewing the world in more fundamentalist ways, and who also attempt to move others along in the same direction as them, and finally that it's more common the further down you go.

Obviously, someone can travel all the way down to the level of a Satanist death cultist and only have been able to encourage one of their former friends to move down one level, thus spitting them out at only one level lower, but it's still a concerning phenomenon, both for the few who end up at the very low levels, as well as the many who just take on a more purist gatekeeping form of anarchism.
About this project
Argument for deleting: 'Deprogramming' people sounds manipulative.
Counter argument: The word deprogramming was used simply to refer to the emotional growth Ted K's fascist fans could chose to go through for example by reading texts that critique their past literal glorification of the Khmer Rouge's genocide.
Views on Revolution
Girei
I am looking for literature by writers similar to Ted.
Specifically I am interested only in writers who advocate for some kind of a revolution and are serious about it.
If any of you have things that match this description, please share
Clay
Not like Ted, but will post for discussion anyways on the subject of revolution:
Girei
Rojava thing: Doesn't have one clearly defined primary goal.
Ablullah thing: Gender equality is not a revolutionary goal, because it is compatible with the values of technological system.
Feminist goals such as equal status for women and an end to rape and domestic abuse are perfectly compatible with the existing structure of society. In fact, realization of these goals would even make the technoindustrial system function more efficiently. Consequently, these goals are reformist.

- from The Road to Revolution
Clay
Agree with your first point, I just think that's a good thing. And I agree that gender equality can come about through reform alone, though I would still call it a revolution when a group seizes territory motivated by a desire to build an anti-capitalist gender equalized society.
Girei
It doesn't matter what kind of society they build, if they are not anti-tech, their society will always drift in the same direction every other society is drifting in.
Clay
You mean the based solar-punk future of bullet trains connecting up small city sky rises, and where everyone has a low-tech hut in dense wildlife habitat to relax in?
Girei
No, every society under the rule of the technological system is drifting towards greater efficiency.
Old people will be getting euthanized more and more, people will own less and less pets, people will be traveling less and less, surveillance and government mandates will keep increasing.
"based solar punk future" you can only get in Metaverse.
Clay
I'm completely open minded as to who will organize and propagandize better to achieve which society, obviously if socialists win, anyone even contemplating suicide through lack of means or community would be treated as a community health crisis.
The less and less pets one is a funny one to be second on your list of concerns that come to mind, can you expand on your fears there about what is impacting that and what is being lost?
Girei
obviously if socialists win
Trudeau is not a right-winger. The technological system is not run by ideology, but by efficiency.
I can answer questions, but Ellul explains things much better than I can. I recommend reading Technological Society
Clay
I agree Trudeau is not on the right for his country. I'm organizing towards a far, far, left anarchist society that has very little principled overlap with Trudeau's policies.
I have already read many of Elluls books, I advocate for a revolution very close to Ellul. Quoting Ellul:
In 1944, at the Liberation, I was part of the Movement of National Liberation, I even held certain positions in it, and had begun to believe the dream we had been dreaming during the last few years of the Resistance, often expressed by the saying that we were going to move from Resistance to Revolution. But when we said that-and I would like to point out that Camus first used it in 1943 in combat groups-we did not mean a Communist, Stalinist, Soviet revolution. We meant a fundamental revolution of society, and we made great plans for transforming the press, the media, and the economic structures. They all had elements of socialism, to be sure; but I would say it was more of a Proudhonian socialism, going back to grassroots by means of a federative and cooperative approach.
I also agree with many of Ellul's arguments on technology and efficiency:
If we see technique as nothing but objects that can be useful (and we need to check whether they are indeed useful); and if we stop believing in technique for its own sake or that of society; and if we stop fearing technique, and treat it as one thing among many others, then we destroy the basis for the power technique has over humanity.
Both quotes are from: Perspectives on Our Age by Jacques Ellul.
I'll have an interesting letter Ted sent to Ellul typed up soon for the website anyways, will be interesting to get people's reactions.
Girei
I advocate for a revolution very close to Ellul
He didn't advocate for any real revolution.
He was a christian and advocated only spiritual revolution.
I'm organizing towards a far, far, left anarchist society
Okay lets talk about that.
Do you want anarchist society within the borders of a country that is not anarchist, or do you want a country that has only government that shares your values, if any government at all?
Clay
If the socialist French resistance groups who were the most active and numerous had been able to take full power of the whole country at the end of WW2 and implement a Proudhonian socialism, they would have succeeded in achieving a socialist revolution. Even Ted K refers to these events as revolutions.
I want every region of the world to organize along anarchist principles.
Girei
they would have succeeded in achieving a socialist revolution
Revolutionaries gaining power, and revolutionaries creating a system that will not drift in the direction of efficiency are very different matters.
I want every region of the world to organize along anarchist principles.
There are countless organizations competing for resources. And organizations that win are the ones that are more efficient, not the ones that are more anarchist. This is not my preference, it's just how the world works. I don't think you don't understand this, I think you are just ignoring it
Clay
A comparative analogy that might help you move past assumptions like that I'm not well-read on these issues, or that I'm being self-deceiving, is... that I view the task of building up an anarchist movement ready to help organize towards an anarchist society at key moments of weakness in society (like trotsky being called on to defeat a white army regiment)... as being a similarly difficult task to... building up an international anti-tech revolution ready to help take down industrial society at key points in time... but a task worthy of striving to achieve, and achievable for reasons we can go into.
Girei
Rather than arguing with me about why making "every region of the world to organize along anarchist principles" is realistic, I think you should argue with me in which direction things will go if you personally were to not do anything.
I am not suggesting that you shouldn't do anything, but that you should form a clear view of what the direction is from which you are stirring the world away from.
Clay
I fully grant that due to the way all technologically advanced societies are organized today that there are a great many people for whom it can be said that they had very little choice but to help society keep trending towards technological development. So, it's not nearly the same as someone who's been a hunter-gatherer all their life with a bow and arrow choosing whether to learn to use a gun.
Still, a big-tent leftist movement, and the socialist movement within it, and the anarchist movement within it can work to opportunistically strike at all the right moments in which governments and corporations are weak. And in doing so bring about the kind of world socialist revolution Ellul envisioned, which can then finish off bringing about the kind of 'spiritual' anti-technique revolution Ellul envisioned. Such that people only engage with technology in creative ways they desire.
Girei
In which direction do you believe things would go if you personally were to not do anything?
Clay
I doubt my personal contribution would move the needle a massive amount either way, so same answer for either way, but technological development, more efficiency, more liberalism, then 60% chance of market socialist countries in the west within a 100 years, 60% chance of the world socialist and spiritual revolution I described within 500 years, 10% chance of world fascism in 500 years, 10% chance of world economic collapse within 100 years.
These are all incredibly rough guesses, whatever the possible chances are for any of these, it's still worth striving for an anarchist and anti-technique revolution that preserves high-level technology.
Girei
Eh, that's some completely unreasonable time span.
I claim that human species will not exist in 200 years if the bioconservative/anti-tech revolution doesn't happen in this century
Clay
If you want to give an argument for why you think anything I said is wrong, you're welcome to do so.
Girei
I don't want to talk about 500 years from now. Humans may be long extinct by that point.
I want to talk about next 10-20 years, what do you think the world will look like?
Matt
I think we will be doing pretty good.
We have become better at bug and pest regulation and the cattle shortage will have dissapeared along with the fact that a lot more conservationist laws are happening along with the weakening of American imperialism
I don't really like looking at humanity in a general sense considering how general that would be.
Like a lot of what kazinsky has to say really only applies to america mainly. Like his commentary on cars, that has not effected the Europeans like Norway at all. It is a lot more about management often times.
Clay
99% likely we'll be managing just fine, yeah, there will be climate refugees & more species extinction, but the fastest way to a permanent anti-technique world will always be through leftism, socialism and anarchism. I don't want to be part of some bullshit vanguard anti-tech revolution where even if it succeeded in collapsing advanced technological society that it would inevitably lead to feudal war lords, only for us to carry on burning the peat bogs, tearing down the forests and rebuilding tech society only with worse environmental conditions.
Deleted User
Yeah like I don't want to be under the mercy of some feudal cartel warlord.
Girei
You don't know what would be happening is the organization dependent technology collapsed. No one does.
You can't even get the next 10 years right, but for some reason you believe you have a clear picture of the world completely different from the one we know.
climate refugees & more species extinction And what about personal autonomy, are you fine with govt deciding when and where you can travel, are you fine with govt delivering to you food that it decides you should eat (as opposed to choosing at a store)?
Clay
For some reason you believe you have a clear picture of the world completely different from the one we know.
Who do you mean by 'we'? Some conspiracy following anti-tech people on the internet?
We, virtually everyone who looks at the historical record, can easily deduce a rough idea of what tech collapse would look like, again even Ted accepts this:
... civilization in its pre-industrial forms does not require an elaborate and highly-organized technological structure. A pre-industrial civilization requires only a relatively simple technology, the most important element of which is agriculture.

How does one prevent people from practicing agriculture? And given that people practice agriculture, how does one prevent them from living in densely-populated communities and forming social hierarchies? It is a very difficult matter and I don't see any way of accomplishing it.
And we can also see how bad environmental destruction would continue:
I have no idea how you're getting that humans could go extinct? Do you literally mean every homo sapien could be gone from the planet in 200 years? Or do you mean it in the sense humans will have transformed themselves technologically so much that we will no longer be able to relate them as humans, or something else?
And what about personal autonomy, are you fine with govt deciding when and where you can travel, are you fine with govt delivering to you food that it decides you should eat (as opposed to choosing at a store)?
No, I use these situations to recruit people into anarchist organizing and propagandizing, which again has the best chance of achieving a permanent anti-technique revolution.
Girei
I used word "we" in "world we know" to refer to the world as I know it and you know it.
So you would rather bet everything on a pipedream of humanity living without hierarchy, than actually preserve human species?
I have no idea how you're getting that humans could go extinct? Do you literally mean every homo sapien could be gone from the planet in 200 years? Or do you mean it in the sense humans will have transformed themselves technologically so much that we will no longer be able to relate them as humans, or something else?
It's the same thing. If bioconservative/anti-tech revolution doesn't happen, humans will get modified out of existence. By what Ted calls "objective factors."
I assert that the course of history, in the large, is normally determined primarily by "objective" factors rather than by human intentions or by the decisions of individuals.
achieving a permanent anti-technique revolution
Humans have always used primitive techniques, and to my knowledge have always utilized the available tools, whenever they were strongly incentivized to do so.
At any given point in future, inevitably some people will utilize available techniques more than others do. And those who do will gain a competitive advantage.
Clay
You're betting on an anti-tech revolution to make human modification less likely, and all that would happen even if you were successful is plunging us into a hell world where we keep burning down the forests, and keep burning up the peat bogs, all at the whims of feudal tyrants with the most guns and brainwashed recruits. Also, simply the same techno-industrial revolutions all over again.
I'm betting on the fact we can simply organize and educate as part of a big-tent leftist coalition, and a socialist coalition within that, and an anarchist coalition within that, to bring about a world in which engagement with technology can be a purely creative pursuit, not something we depend on, but something we can do that brings us meaning, to improve on all the ages of technological development we started with going back to the humble jungle shack.
Girei
If the organization-dependent technology collapses, we will not go back to square one.
We will have a large body of literature to use and many centuries of time to create a better system.
I don't understand why you think you can educate a big-tent coalition. People on the fringes of the internet certainly can be educated by people like us, but big-tent can only be educated by the system's institutions. Universities and media are not gonna give any education that would pose a direct threat to the direction quo. They will keep educating in the same way they have been doing so far: Install wishful thinking, install racial consciousness and racial resentment, make students spend bulk of their time learning to recite, etc.
Clay
Perhaps because you're simply on the right-wing, so you see signs of even mild centre-left policies in institutions as part of a terrifying conspiracy.
Some universities offer a wide range of sociological analysis in class, for students to compare and contrast, some of which analysis incorporate the history of racial oppression where they didn't before, big whoop. Ideally schools would be helping redress a lot more racialized problems, such as teaching endangered indigenous languages in primary school.
Some of the gains in education we have now occurred because of the success of left and far-left agitation. In order to have the effect of moving society further left we simply have to pursue tasks such as growing our unionizing efforts, creating mutual aid networks and taking direct action.