Title: How the Case Against Ted Kaczynski, the 'Unabomber,' Unfolded
Subtitle: The domestic terrorist, who evaded authorities for almost 20 years, killed three people and injured 23 others with his homemade bombs.
Date: Published June 10, 2023. Updated June 12, 2023.
Livia Albeck-Ripka and Anna Betts
How the Case Against Ted Kaczynski, the 'Unabomber,' Unfolded
The domestic terrorist, who evaded authorities for almost 20 years, killed three people and injured 23 others with his homemade bombs.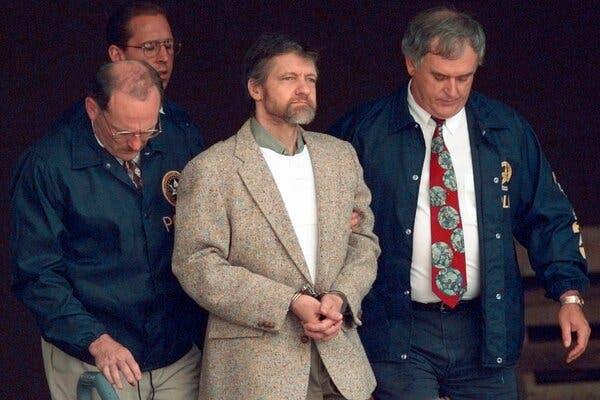 Ted Kaczynski, the confessed killer who attacked academics, business officials and others over nearly 20 years and became known as the Unabomber, died by suicide on Saturday at a federal prison in Butner, N.C., according to three people familiar with the situation. He was 81.
Here are the key facts about his life, the attacks and the long manhunt that led to his capture.
Who was Ted Kaczynski?
Theodore J. Kaczynski was a domestic terrorist who from 1978 to 1995 planted homemade bombs at or sent them to universities and other locations including people's homes, killing three people and injuring 23 others. Federal authorities arrested Mr. Kaczynski in 1996. Two years later, he pleaded guilty to the bombings and was sentenced to life in prison without the possibility of release.
He said his violent campaign was intended to bring about the collapse of the modern social order.
[Image]
This composite sketch, based on a 1987 spotting of the Unabomber, was the only lead nine years into the bombing spree.Credit...via F.B.I.
The rampage spurred one of the longest and most expensive manhunts in United States history, and years before the Sept. 11 attacks, it made many Americans fear opening mail and boarding planes.
When Mr. Kaczynski was arrested in 1996, the details of his life emerged: Born in Chicago in 1942 to working-class parents, he went on to study at Harvard and teach mathematics at the University of California, Berkeley. In 1971, Mr. Kaczynski moved to a shack he built in rural Montana, where he lived without electricity and running water and where, it was later revealed, he went on a spree of environmental vandalism, sabotaging mining machinery, burning logging equipment and destroying hunting camps.
The remote shack was also where Mr. Kaczynski built more than a dozen bombs and devised his plan to terrorize those he perceived to be advancing the evils of technology.
Who were his targets?
During Mr. Kaczynski's yearslong terror campaign, he mailed and delivered more than a dozen bombs across the country. Investigators later found lengths of pipe, soldering wire and explosive chemicals and determined that the homemade devices had been constructed in his Montana shack.
At first, Mr. Kaczynski's victims appeared random: Many were academics. A few were corporate executives. One was a secretary, Janet Smith, who on May 5, 1982, happened to open the wrong package. She spent three weeks in the hospital, having suffered lacerations and powder burns on her chest, arms and hands.
Two months later, Diogenes J. Angelakos, a professor emeritus of electronic engineering, was near his laboratory at U.C. Berkeley when he picked up what he believed was a misplaced construction tool. The pipe bomb exploded, ripping through his right hand and sending shrapnel tearing into his face.
In June 1993, David Gelernter, a computer science professor at Yale University, became another of Mr. Kaczynski's victims when he opened a package believing it was a doctoral thesis. He was wounded severely, later requiring several surgeries, and permanently lost the use of his right hand.
That same month, Mr. Kaczynski targeted Dr. Charles J. Epstein of Tiburon, Calif., who was known for his research on Down syndrome and other genetic disorders. Dr. Epstein received a package containing a bomb at his family home.
Dr. Epstein survived the attack but suffered hearing loss, internal injuries and damage to his right hand. After surgery, he was able to resume his career. In 2011, almost 18 years after the attack, Dr. Epstein died of pancreatic cancer at the age of 77.
Jonathan Epstein, 59, one of Dr. Epstein's sons, said on Sunday that he and his family did their best to put the attack behind them and focus on his father's accomplishments, which were aimed at helping humanity and not in any area of science that Mr. Kaczynski condemned. But speaking of the attack, he added that his mother "was always very shaken by it."
After hearing the news about Mr. Kaczynski's death, Mr. Epstein expressed relief. "I guess I was glad that this episode was largely over," he said.
[Image]
Mr. Kaczynski constructed explosives in this Montana shack.Credit...Elaine Thompson/Associated Press
The manhunt for the Unabomber
In 1979, the Federal Bureau of Investigation began an inquiry into the series of bombings, which they referred to as the "UNABOM" case. The acronym stood for the "UNiversity and Airline BOMbing" targets involved. More than 150 investigators spent years tracing the lives of the victims, recovering bomb components and searching for other forensic clues.
Investigators said they felt confident that the suspect, whom they called the Unabomber, had been raised in Chicago and had lived in the Salt Lake City and San Francisco areas, but they struggled to pin down other details, including the bomber's gender.
In 1995, an anonymous letter was sent to The New York Times and The Washington Post.
In the letter, the writer or writers, identified only as "the terrorist group FC," claimed responsibility for the serial bombings in the UNABOM case and promised to "permanently desist from terrorist activities" if the papers agreed to publish a manifesto, which was more than 29,000 words.
What was in the manifesto?
Later in 1995, after consulting with the F.B.I., the papers published the writing in full. Federal authorities said they hoped a reader might help identify the author.
The document condemned industrialization, saying it led to "widespread psychological suffering" and had caused such environmental damage and alienation that modern society ought to be destroyed. It advocated "a revolution against the industrial system."
[Image]
After David Kaczynski recognized his brother's language in the writings that were published, he went to the authorities.Credit...Rich Pedroncelli/Getty Images
How was the Unabomber caught?
Shortly after the writing was published, David Kaczynski, the brother of Mr. Kaczynski, approached the authorities. He recognized the language in the letter and believed his brother might be the Unabomber. The authorities then arrested Mr. Kaczynski in his shack in Montana, where they found 40,000 handwritten journal pages that included information on bomb-making experiments and descriptions of his crimes; they also found a live bomb.
In January 1998, Mr. Kaczynski pleaded guilty in Sacramento as part of a deal that ensured he would not get the death sentence. Later that year, he was sentenced to four life sentences plus 30 years in prison. He served most of that sentence at the United States Penitentiary, Administrative Maximum Facility, near Florence, Colo., alongside the 1993 World Trade Center bombing mastermind Ramzi Yousef and the 9/11 conspirator Zacarias Moussaoui.
In 2021, Mr. Kaczynski was moved to a federal medical center in Butner, N.C., because of poor health. He was found dead in his cell on Saturday.
---
Alex Traub, Glenn Thrush and Remy Tumin contributed reporting.
Livia Albeck-Ripka is a reporter for The Times based in California. She was previously a reporter in the Australia bureau. @livia_ar
Anna Betts is a reporter for the National desk and a member of the 2023-2024 New York Times Fellowship class. @annabettss