Welcome to the biggest online archive of texts related to Ted Kaczynski!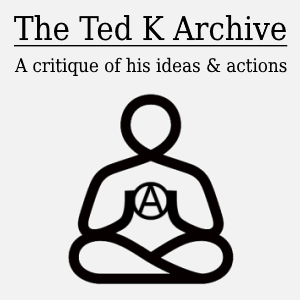 You can find a full index of the archive here:
The archive is split into eight main categories:
For a simple guide on how to use this website click here.
Also, you can:
Sort texts on the archive by author here.

Download any document on the archive, by clicking on one of the many download options, once on the document.

Edit any text on the archive by clicking the 'writers pen' symbol, once on the document.

Add texts to the library by clicking the '+' button in the top right corner.

And much more, simply have a look around.
For more information about this project click here.
For suggestions on how you can help improve this website click here.
Join the live chat spaces for the website: Discord & Matrix
& Follow this website on twitter for updates: @TheTedKArchive
Although the views of the people Ted bombed are undoubtedly mixed on many subjects, it was reassuring reading this request by William Dennison, the last person Ted addressed a mail bomb to:
I respectfully urge the court, Your Honor, to open all the Kaczynski materials, including the decoded journals, to public scrutiny in the expectation that valuable public safety information may be obtained and used to save many lives. Academician analysts will certainly be able to draw a more accurate picture of the mind of a killer and the connections to eco-terrorism if the original materials are in their hands.